F1 Outdoors Season Opener
Terrific start to the 2011 season!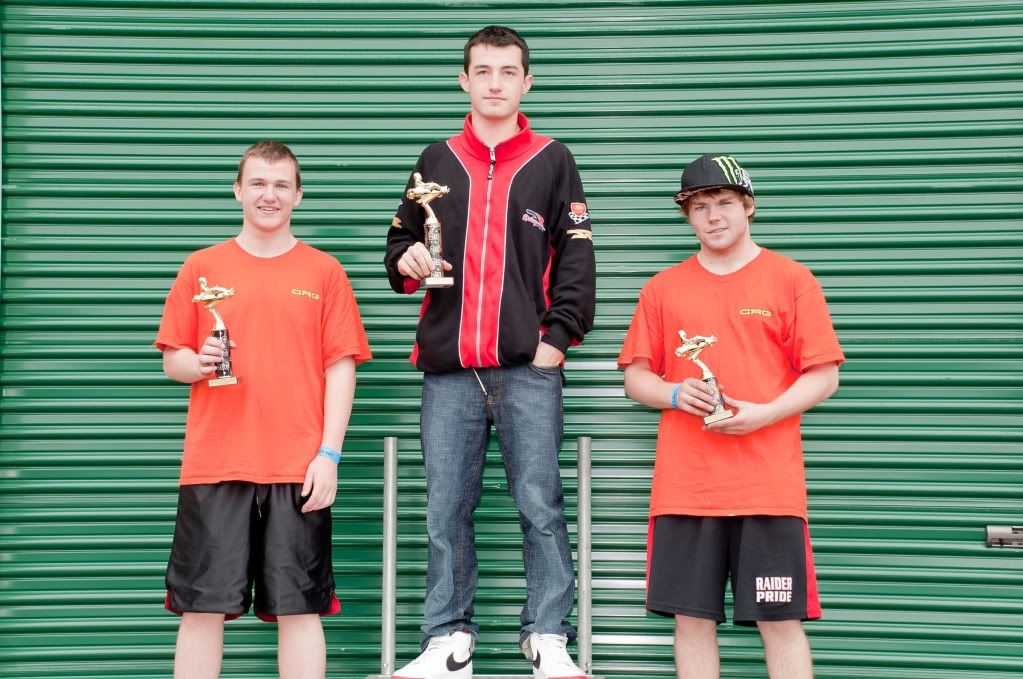 Photo: Tracey Young
For the most part, mother nature cooperated for the weekend's festivities. It was not a totally dry weekend, but many people walked away with a sunburn!
Saturday's practice drew in excess of 50 drivers, everything from kid karts to shifters. We saw license plates from Maine to New York in the near capacity parking lot. The Grand Prix Track configuration was used, this allowed the "back" portion of the track to be used for engine break in's while the main track was operating normally. With many new drivers on new engine's and chassis', this allowed the drivers to become more familiar with their new sport, before braving the main track and the speeds that the more seasoned drivers were traveling at. The track also allowed an extra 45 minutes to the normal 4 hour practice session, the extra time was very appreciated.
Sunday, race day, started out with a wet track. Just the opposite of the previous day. Since Sunday's start time was 10 am, the extra time allowed the track to start drying and only a couple of classes went out for morning warm up with rain tires. By the time everyone gathered for the drivers meeting the sun was shining and every one was planning for a dry day.
Qualifying saw Mark Pellegrini, Spencer Bogar, Ricardo Nunes and Lance Fenderson take P1 in their respective classes. As everyone gathered for the start of the pre-final, mother nature decided that it was time to resume raining and the remainder of the day would be run under those conditions.
When the day finally concluded, there were many great races. In Rotax Sr, Mark Pellegrini (DR Kart) took the top step on the podium followed by Thomas Appleton (CRG) in second and Robert Young (CRG) in 3rd. Rotax Jr, saw newcomer Thomas Roth (CRG) take the win with Spencer Bogar (Birel) in second and Cabot Bigham (CRG) in third. In Mini Max, Nicholas Uva (CRG) took first, followed by Christion Sarnacki (CRG) and Lance Fenderson (Top Kart). Rotax Masters was the last class of the day and may have been one of the most exciting race. But when the dust settled, Adam Labonte (CRG) was on the center step followed by Ricardo Nunes (CRG) and Jay Hanscom (CRG).
Our next Northeastern Rotax Series race will be May 21-22 at the New Jersey Motorsports Park. The next F1 Outdoors club race will be held the weekend of June 4th and 5th.
Here is a link to the race schedule at F1 Outdoors for the remainder of the 2011 season.
2011 F1 Outdoors Racing Schedule
For podium pictures please click the link below