Skip Barber National: Hindman wins again at Lime Rock Park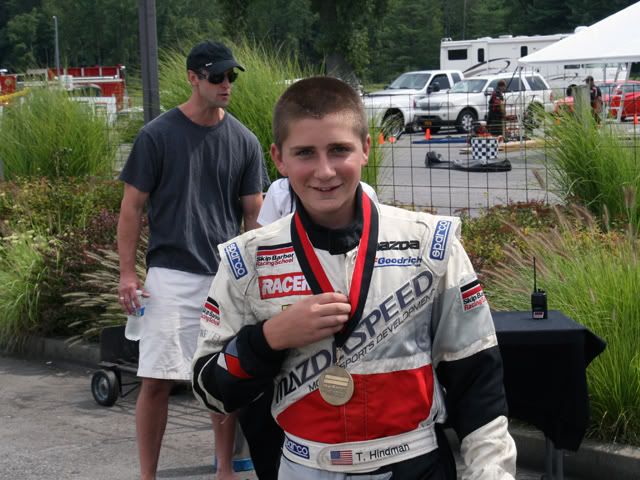 Wayside, N.J., August 16 –Trent Hindman's three-week, 2,000 mile (give or take a few miles) Summer
tour of eastern North America wrapped up this past weekend at Lime Rock Park with the MAZDASPEED
Motorsports Development driver picking up a pole and a dominant win in BFGoodrich/Skip Barber
National Presented by Mazda competition. In doing so, the Wayside, N.J. driver extended his season long
Skip Barber National Top 5 finish streak to 12, closed in on the Top 2 in the championship and further
cemented his claim on the Rookie of the Year title.
Round 11
A combination of a small field and a small track made conditions ideal for the Skip Barber National to
run its first ever NASCAR style single-car qualifying session; an overwhelmingly popular decision with
drivers weary of another session dominated by drafting and gamesmanship. With the qualifying order
determined by points, Hindman was third from last to go out for a time, clocking in with a 59.747 sec. lap
that placed him third on the grid behind championship leader Scott Anderson and second-in-points
Brandon Newey.
"I really liked the single car qualifying session", said an excited Hindman after Friday's session. "These
cars are so dependent on the draft that a slower driver can luck his way into a better starting position than
they might have gotten on their own."
In the opening laps, Anderson built a comfortable lead while Hindman battled with Brandon Newey and
Sebastian Ordonez for the top three. After building a nearly three-second lead, the field began to reel the
leader back in and caught him by Lap 17. On Lap 18, Ordonez made an outside pass.
The dust up between Anderson and Ordonez opened the door for Hindman, who led the next two laps
before surrendering the point to Newey and second to Ordonez. Ordonez would eventually take the lead
and score his first Skip Barber National win followed by Newey while Hindman held on for third.
"The car started getting loose late in the race; so much so that I thought I had a puncture. I was happy to
see the checkered flag."
The oversteering condition was later traced to a leaking radiator, a condition confirmed by the drivers
immediately behind Hindman for the last few laps of the race. The car was otherwise undamaged so the
radiator was replaced and Hindman's car was ready to go on Saturday.
Round 12
"Be safe. Good luck."
Words of encouragement from Doug Hindman as his son climbed over the wall to head to his car before
the start of Round 12. A day earlier, Trent was the last car out for the second single-car qualifying session
of the weekend. After a 59.591 sec. lap on his second lap, Hindman secured his series lead tying fourth
California Scents Pole Award of the season.
From the drop of the green flag, Hindman was off; building a three-second lead and leaving his
competitors to fight for the scraps.
"I could see Scott getting closer in my mirrors. If the race were a couple laps longer I might have had my
hands full. Having Jonatan (driver coach Jonatan Jorge) on the radio was a great help. He kept me focused
on hitting my marks until the last corner on the last lap."Contact: Jim Altemus, Altemus Prime Communications FOR IMMEDIATE RELEASE
Mobile: (860) 302-7569
E-mail: jaltemus@altemusprime.com
With two podium finishes to go along with the pole position, Hindman not only crept closer to Anderson
and Newey in the standings, he also collected the $500 award for scoring the most points on the weekend
from Parathyroid.com. The championship may be a long shot at this point, but mathematically Hindman
is still in contention, a fact not lost on the young driver.
"With four races to go there are 140 points still on the table. I'm going to do what I can to collect as many
of those points as possible."
Top 5 - 2011 BFGoodrich/Skip Barber National Presented by Mazda, after Round 12 of 16
1. Scott Anderson, 376 points
2. Brandon Newey, -12
3. Trent Hindman, -16
4. Sebastian Ordonez, -55
5. Shelby Blackstock, -65
Next up
Trent Hindman returns to Mosport International Raceway the weekend of September 3-4 with BGR Team
Grote for Rounds 9 and 10 of the 2011 Ontario Formula Ford Championship. From Ontario Hindman
heads to Autobahn Country Club in Joliet Ill. for Rounds 13 and 14 of the BFGoodrich/Skip Barber
National Presented by Mazda. Follow the Skip Barber National action live on your smart phone with
Race Monitor, available at your phone's app store, or semi-live at www.twitter.com by following either
@SkipBarberNatl or @altemus_prime.
2011 Ontario Formula Ford Challenge schedule
May 7-8: Mosport International Raceway, Bowmanville, Ontario
June 25-26: Mosport International Raceway
July 16-17: Shannonville Motorsports Park, Shannonville, Ontario
August 6-7: Mosport International Raceway
September 3-4: Mosport International Raceway
September 17-18: Mosport International Raceway
October 1-2: Mosport International Raceway
2011 BFGoodrich/Skip Barber National Presented by Mazda Schedule (8 double-race weekends)
March 16-18: Sebring International Raceway, Fla. with the American Le Mans Series
April 29-May 1: Virginia International Raceway, Va. with Skip Barber Summer Race Series
May 27-30: Lime Rock Park, Conn. with the Rolex Sports Car Series
July 1-3: Road America Wis. with Skip Barber Summer Race Series
July 21-23: Road Atlanta, Ga. with Skip Barber Summer Race Series
August 11-13: Lime Rock Park with Skip Barber Summer Race Series
September 10-11: Autobahn Country Club, Ill. with Skip Barber Summer Race Series
October 6-8: Lime Rock Park with Skip Barber Summer Race Series
- Jim Altemus | www.altemusprime.com
###
Who is Trent Hindman?
Trent Hindman, 15, began racing karts at his local track at the age of 8. In 2005 he began racing and
winning in World Karting Association (WKA) and Stars of Karting competition before moving up to cars
with the Skip Barber Racing School in early 2009. Hindman's goal is to progress through the "Mazda Co
Road to Indy" program, culminating in a ride in the IZOD IndyCar Series. Hindman would like to thank
MAZDASPEED Motorsports Development, Skip Barber Racing School, Sparco, Premier Woodcraft,
Racelite Protection and Altemus Prime Communications for their support. This season Trent is working
with Jonatan Jorge Racing Development and is looking forward to being coached by Jonatan Jorge.
Away from the track, Hindman is a sophomore at Ocean Township High School in Oakhurst, N.J. He
resides in Wayside, N.J. with his parents Doug and Kim and his sister Sloane.

Learn more about Trent Hindman at www.trenthindman.com.

About the BFGoodrich/Skip Barber National Presented by Mazda
The BFGoodrich/Skip Barber National Presented by Mazda is an entry level professional racing
championship that conducts 16 races (eight events) around North America. Drivers compete in equally
prepared and randomly selected Formula Skip Barber racecars; single-seat open wheel racecars powered by a 150 horsepower engine.

As an integral step in the MAZDASPEED Motorsports Development Ladder, the Skip Barber National
Champion will receive a scholarship to compete in a full season of the 2012 Cooper Tires Presents the
USF2000 National Championship Powered by Mazda. The winner of the USF2000 Championship in turn receives scholarships to compete in the Star Mazda Championship Presented by Goodyear, a part of the
Mazda Road to Indy. The Skip Barber National is the series that launched the auto racing careers of Ryan
Hunter-Reay, Marco Andretti, Scott Speed, A.J. Allmendinger, Raphael Matos and many more. The top
ten drivers in the Skip Barber National Series point standings will also receive prizes and awards to aid in
the development of their motorsports careers.
Learn more about the Skip Barber National at www.skipbarber.com.